Sweet potatoes are one of those super foods that you may think to add to your fall menus but not so much in summer. The North Carolina Sweet Potato Commission, which represents farmers in the top sweet potato producing state, has some great ideas for summertime goodness. Here are a few to try:
Combine roasted sweet potato cubes, black beans and guacamole in your favorite tortilla for a vegetarian burrito. Another way to use sweet potato cubes is in a salad with red onions, black beans, cilantro and a lime juice vinaigrette with a touch of garlic, cumin, salt and pepper. A variation is with black beans, grilled corn, roasted peppers, lime juice and cilantro.
Make homemade chips by slicing sweet potatoes on a mandolin, toss in olive oil and salt and bake at 350 degrees F until edges are brown.
Use sweet potato puree instead of egg to bind your favorite veggie burger recipe. A variation is to use the puree with chipotle and add to quesadillas for a sweet and spicy kick.
Roasted Sweet Potato Cubes
Preheat oven to 400 degrees F. Cut sweet potato into cubes. Toss with olive oil to coat; season with salt and spices if desired. Spread on baking sheet lined with foil. Bake until tender with brown edges, about 20 minutes.
Sweet Potato Puree
Bake a sweet potato (preheat oven to 400 degrees F; pierce potato with fork 5 to 6 times; bake 45 minutes to 1 hour); set aside to cool. Cut in half lengthwise with a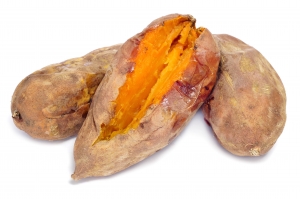 spoon. Scoop out flesh; puree until smooth. (Bake extras to use during the week as a side dish or as lunch with a tossed salad.)