Happy New Year! May the year bring new possibilities and new opportunities. May it bring peace, goodwill and health.
A traditional New Year's Day meal is said to bring good fortune. Greens symbolize dollar bills and black-eyed peas symbolize coins. Cornbread symbolizes gold. Pork is a popular dish to serve with a Southern New Year's meal. While the traditional version is sometimes laden with grease, opt for a healthier version that is delicious and just as pleasing.
Good Fortune Black-eyed Pea Salad
Black-eyed pea salad with diced celery, onions and red or green peppers is a crowd pleaser when tossed with vinaigrette. Some people like to call it Southern caviar. To make it, simply drain and rinse canned black-eyed peas. Dice up about ½ cup celery, ½ cup onions and ½ cup peppers. Make your own vinaigrette and mix together. (Try 2 tablespoons olive oil, 2 tablespoons vinegar, a teaspoon salt, a half teaspoon black pepper, a teaspoon sugar; adjust seasonings to taste.) If you have ham, dice up ham and add it to the salad; ½ to 1 cup will do. To edge the salad closer to the Hoppin' John recipe, add ½ cup to 1 cup rice or serve the pea salad over rice.
'Go for the Green' Spinach Saute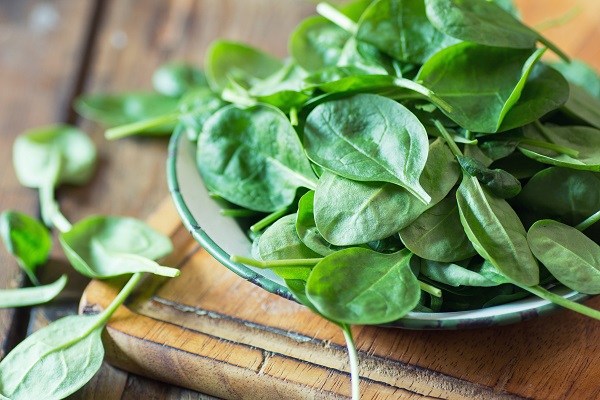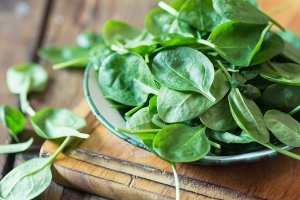 Collard greens are popular in the part of the country where I live but I'm not a big fan so my greens of choice are spinach leaves. I'm also partial to mustard and turnip greens, but back to the spinach. Wash the leaves (they cook down so you'll need to start with a big bag or two, depending on how many you will serve) and toss into a pan with a tablespoon olive oil, 1 tablespoon butter and a couple minced garlic cloves. It only takes about a minute or two to saute the spinach to perfection.
Golden Cornbread and Rosemary Potatoes
Roasted rosemary potatoes may not be one of the traditional dishes but they pair beautifully and deliciously with the pea salad and the sautéed greens. Cornbread rounds out the meal. The meal is healthy and a good way to kick off the New Year. It's an easy, no fuss meal as well.
Fun Traditions
What is your New Year's Day tradition? It's fun to learn how others celebrate the New Year. Long noodles signify longevity in Asian culture. A stir-fry with unbroken noodles gives diners a chance to eat at least one long noodle for long life and good luck. Chinese culture serves fish whole to symbolize prosperity and abundance from beginning to end. The Italians enjoy lentils, symbolizing wealth. In Spain, the tradition is to eat 12 grapes or raisins before the stroke of midnight to bring good fortune for every month of the year.
A Healthy Start
Regardless of your traditions, resolve to start the year with healthy food choices. One habit change per month will start you on the path to better health. A few ideas to get you started: begin replacing soft drinks with water, eat an extra vegetable or fruit each day, order a side salad instead of fries, eat a handful of nuts instead of a sugar-laden candy bar, enjoy hummus and red peppers instead of a bag of chips. There are delicious, healthy alternatives! We look forward to providing helpful tips and strategies each month.
Have a Happy, Healthy New Year!