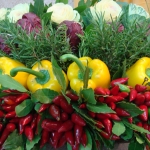 A valuable resource for anyone interested in food is the Slow Food USA organization. Slow Food, the opposite of fast food, is part of a global Slow Food network of more than 150,000 members in more than 150 countries. Through a vast volunteer network of local chapters, youth and food communities, Slow Food links the pleasures of the table with a commitment to protect the community, culture, knowledge and environment that make this pleasure possible.
The mission is good, clean and fair food for all. Slow Food is all about food


being tasty, local, fresh and wholesome. From the website: "Our food should nourish a healthful lifestyle and be produced in ways that preserve biodiversity, sustain the environment and ensure animal welfare – without harming human health. Our food should be affordable by all, while respecting the dignity of labor from field to fork."
An appreciation of the diverse cultures and traditions that reside in the U.S. is also an emphasis of the organization.
Alice Waters, chef, author, food movement pioneer, and vice president of Slow Food International, says,
"Slow Food reminds us of the importance of knowing where our food comes from. When we understand the connection between the food on our table and the field where it grows, our everyday meals can anchor us to nature and the place where we live."
Slow Food was started in 1986 when a McDonald's franchise was planning on opening in Rome, adjacent to the Spanish Steps. Italian journalist Carlo Petrini was outraged. What would fast food do to the food culture of Rome? Would it threaten the local trattorias and osterias, the local dining establishments of the working class?
Petrini rallied his friends and community to take a stand against this global industrialization of food, and the social and culinary costs of homogenized eating. Instead of picketing with signs, he armed the protestors with bowls of penne. Defiantly they declared, "We don't want fast food . . . we want slow food!" The idea of Slow Food was born. Read more about the Slow Food history.
There are more than 200 chapters across the United States. Find a chapter in your area.
Every couple of years, Slow Food International sponsors a conference called Terra Madre in Turin, Italy, which brings together farmers, chefs, educators and students. Delegates are selected from around the world and their expenses are paid for. The selection process is currently under way for 2014. Individuals who are not delegates can attend by purchasing a ticket and arranging their own travel, housing, and food and are encouraged to attend workshops organized for the U.S. delegation. Learn more at the Terra Madre and Salone del Gusto page.
(The featured image is a cheese maker showcased at Salone del Gusto, an artisan food trade show that is held in conjunction with Terra Madre.)